SAVE

freeconferencecalls.org
Access to Free Conference Calling is About to End
AT&T is refusing to obey regulations and connect calls to the very few remaining free conference calling providers
The Federal Communications Commission (FCC) is doing nothing to ensure call connection, enforce its own regulations or protect consumers.
Since January 11th, millions of calls have failed due to the intentional actions of AT&T
That relates to millions of minutes of missed mental health services for non-profit clients, missed revenue for small businesses and lack of access to faith-based community for people worldwide – among thousands of other uses
In early January a new FCC regulation went into effect. The free conferencing services are willing and able to comply with the regulation, but AT&T has used the new rule as a rationale to stop connecting calls to/from companies it deems as "access stimulators" – aka conferencing providers that don't charge consumers an organizing fee. AT&T's antiquated, hardware-driven conference systems are significantly more expensive to operate than the innovative software-managed systems used by the free conferencing providers. This technology inequity forces them to charge more to simply stay in business behind the market leaders.
AT&T is Not Saving Consumers Money; It Is Strangling Competition
Yet

their own data indicates

the actual cost is less than $.09 per month, per user – a cost that would be lessened to a minuscule amount when spread across the full user base in line with current billing practices.
Debunking the Financial Fiction
AT&T has spent a lot of time and money convincing regulators and consumers that free conferencing servicers are somehow "fleecing" the big long distance providers resulting in costs that are passed along to all mobile consumers.
That is not true. Here's what you need to know:
When free conferencing providers first entered the market they partnered with rural phone carriers and were allowed to charge more for connecting calls to cover the higher costs of building networks in rural areas.
Today, AT&T claims "access stimulation" or free conferencing costs the telecommunications industry $80 million annually – the estimated cost to connect 8 billion minutes of conferencing made annually by the 75 million long distance subscribers who use these services (out of 455 million total in the U.S.).
FACT: Following these assumptions, the total cost to AT&T for connecting customers to free conference calling services accounts for less than .1 percent of its annual costs.
AT&T also claims all long distance plan subscribers are being forced to subsidize the cost of free conference calls made by a small fraction of the total customer base.
FACT: The cost is negligible, and the entire modern telecommunications structure—and their own business setup—is rife with implicit subsidies. Consumers that use their flat-rate unlimited long distance plans less are "subsidizing" consumers that call more. Just as consumers who don't get sick are subsidizing healthcare costs for those who use insurance extensively.
The Intended Role and Actual Record of the (FCC)
• The FCC is a taxpayer funded organization charged with promoting innovation, protecting competition and ensuring consumers have fair and reliable access to phone, cable and internet service.
• Free market competition is one Chairman Pai's guiding principles.
• Chairman Pai has also vowed, "all Americans should have confidence that when a telephone call is made to them, their phone will ring." (WC Docket No. 13-39)
Before free conferencing providers entered the market and became viral successes, AT&T was charging conference call organizers 2-4 cents per minute in addition to monthly service fees of approximately $60 to $90 per month. Estimates indicate free conferencing providers host up to 42 million calls annually with an average call length of 20 minutes, based on a low two cent per minute charge; free competition is saving consumers more than $1.6 billion annually that used to go straight into AT&T's coffers.
Costs and Limitations of Other

Conferencing Options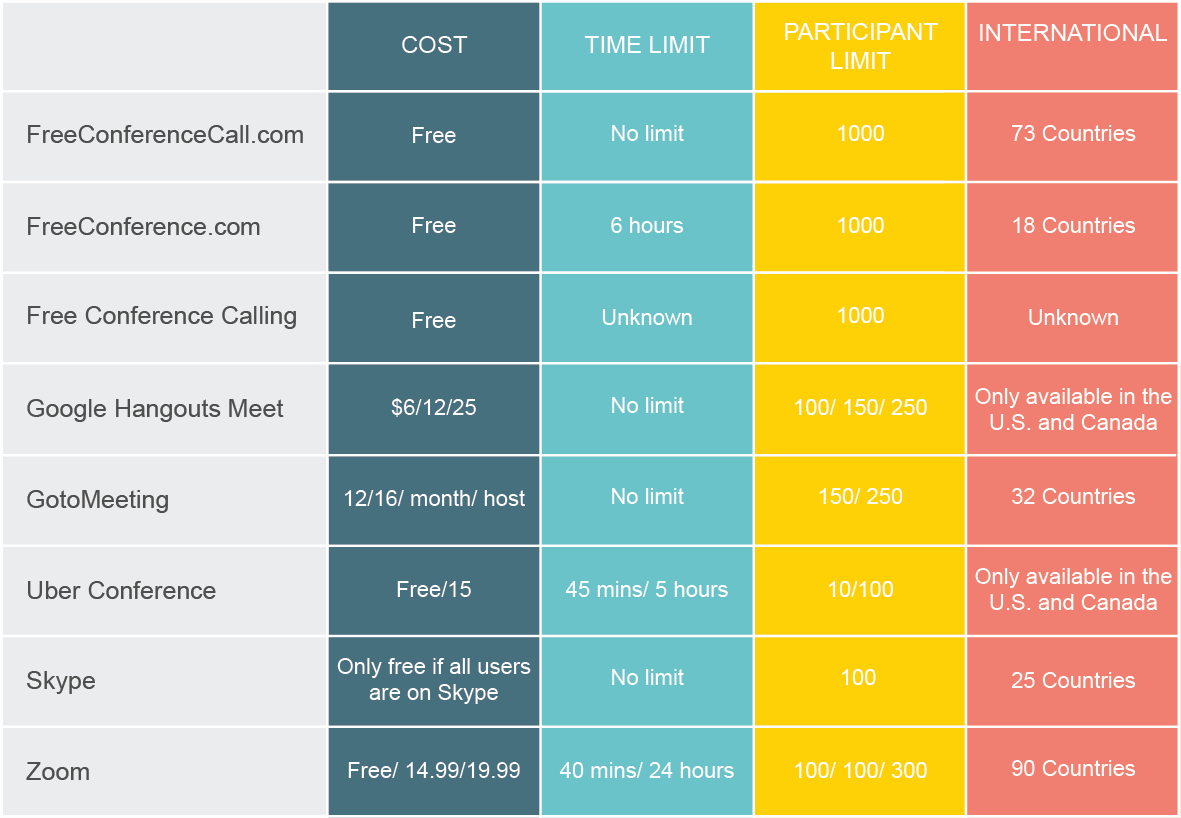 Fill out either or both of the forms below to take action!
Email the savefreeconferencecalls.org team
Email your congressional representative
"With a start-up business I cannot afford the expense of for-pay services. Without a free conference service, I will be out of business and lose the opportunity to add employees and provide a vital service to my industry."
"I'm part of a blindness group who relies on free conference calling to allow us to get together and discuss advocacy issues involving accessibility and also socialize since we are not able to drive to each others homes."
"We use free conference calling for our multi-neighborhood group meetings which is a voluntary group of neighborhood leaders - but without a budget or a formal meeting location."
"It provides am efficient method of connecting several people remotely vs. face-to-face meetings! We need to be working more this way vs. driving and flying which contributes to climate change!"
– Climate Change Advocate
"My small organization of artists from across the state of Indiana depends on free conference calling to have our meetings. Without it, artist organization such as ours would have to raise membership fees or elect a board that lives in one geographical area to represent a whole state. As artists we make little money, so paying for services would not be an option. We would go without and the arts in our state would require more funding."
"As a small business which employees 21 people the service that Freeconferencecall.com provides us as the centerpiece of our business is invaluable to us. If it would not be available we would be forced to reduce our workforce by laying off 9 employees."
In 2012, the Federal Communications Commission (FCC) adopted new laws to level the playing field between rural phone companies and their competitors in higher traffic regions. Before the new legislation, rural service providers could collect higher access charges for carrying calls to less populated rural areas. This fee structure was mandated by the Telecommunications Act of 1996 in an effort to compensate small rural companies for the high costs of providing telecom infrastructure in markets where they made very little ongoing revenue. Since 2012, the FCC mandated that rural carriers were no long able to collect any access fees and today all access charges have been reduced to zero.
In September of 2019, the FCC handed down its latest rule changes to the intercarrier compensation system. Brought about by direct pressure from big telecom providers and led by AT&T, the new rules directly attacked rural service providers and conferencing services' ability to provide consumers with free access to global conferencing. Rather than competing for consumer's hearts and minds, AT&T has decided to lobby and litigate the competition out of business. In much the same way it fought to repeal net neutrality, AT&T is pressuring the FCC to significantly restrict access to free services in favor of their own higher-cost options. And the company has now created a law that punishes us free conferencing providers for the crimes of driving innovation, building a loyal customer base and continuing to thrive under consistently changing, often punitive regulation.
Media and Consumer Contact Information
AT&T Customer Service
1-800-288-2020
Developing a Unified Intercarrier Compensation Regime,

CC Docket No. 01-92; Establishing Just and Reasonable Rates for Local Exchange Carriers, WC Docket No. 07- 135; Connect America Fund, WC Docket No. 10-90; Updating the Intercarrier Compensation Regime to Eliminate Access Arbitrage, WC Docket No. 18-155

In the Matter of Updating the Intercarrier Compensation Regime to Eliminate Access Arbitrage,

WC Docket No. 18-155, Report and Order and Modification of Section 214 Authorizations, FCC 19-94 (rel. Sept. 27, 2019), published at 84 Fed. Reg. 57629 (October

CAF Order,

Page 508 – Section 51.907 lists the step downs – Step 6 (page 511) – July 2017 states that all carriers will "remove any intercarrier charges for terminating End Office Access Service"

Sorry, FCC—killing net neutrality provably didn't expand internet access,

MIT Technology Review

FCC cable set-top rules headed for regulatory graveyard

The Republican-led FCC is no longer considering rules that would have ended cable set-top box rental fees, CNET